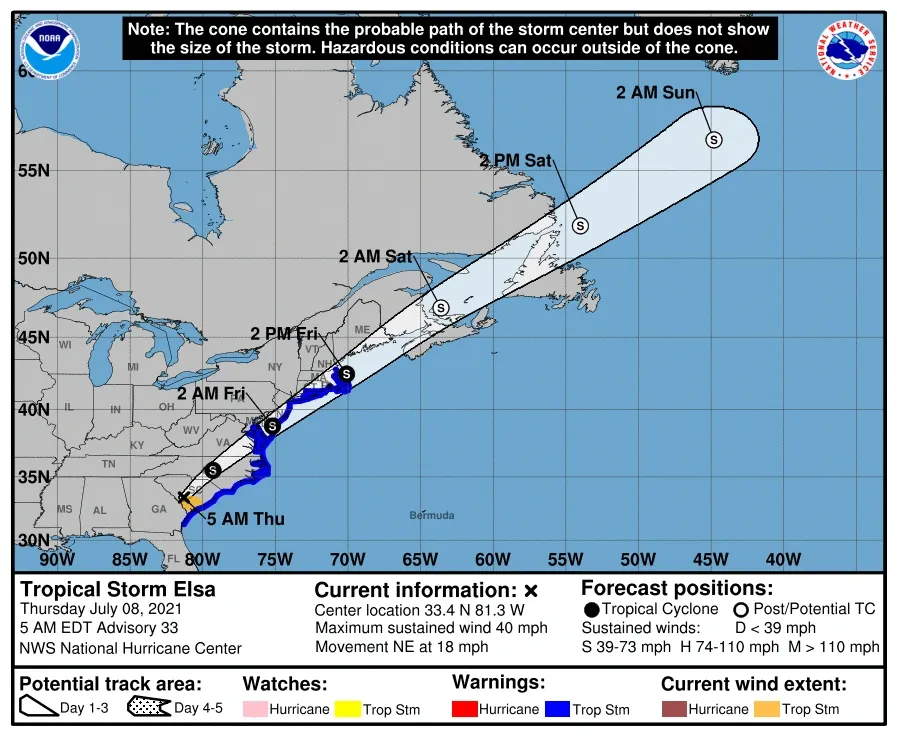 This site is for sale
If you would like to buy this domain name, please contact us at 912.844.6991
TROPICAL STORM ELSA JULY 8TH, 2021 7:00 AM
If you would like to buy this domain name, please contact us at 912.844.6991
Following a path through the southeastern United States where it is predicted to produce heavy rain, damaging winds and even tornadoes, Elsa is forecast by AccuWeather meteorologists to deliver impacts of varying intensity to parts of the mid-Atlantic and northeastern U.S. late this week.
Elsa made landfall as a 65-mph tropical storm in Taylor County, Florida, along the upper west coast of the peninsula. The storm brought wind gusts as high as 78 mph to parts of southwestern Florida on Tuesday.
AccuWeather meteorologists predict that Elsa will slowly lose wind intensity while it crosses the Southeast, eventually traveling along the mid-Atlantic and Northeast coasts from Thursday night into Friday.
KEEP UP WITH THE LATEST HURRICANE-RELATED NEWS @ HURRICANESAVANNAH.COM
THE BEST HURRICANE INSURANCE COMPANY IN SAVANNAH
LATEST FROM GOVERNOR KEMP
EFFECTIVE IMMEDIATELY, Governor Kemp, Chatham County, and the City of Savannah have lifted the State of Emergency for Georgia's coastal counties. Travel restrictions, including those on I-16, are now lifted - and our families are welcome to return home to Savannah. Some bridges may remain closed until later in the morning as crews continue to inspect for safety. The city curfew is no longer in effect.
We've been in close contact with Georgia Power and other providers throughout the morning, and they estimate about 15,000 homes without power across Chatham. Crews from across the state have been working since early this morning to restore power to Savannah's families.
City crews have been deployed to clear roads and properties effective immediately. As you make your way around the city today, please be cautious of any debris and fallen trees that have not yet been cleared. 
Finally, those who we evacuated to Augusta will start returning home in the early evening hours to the Savannah Civic Center.
As we begin to get back to normal life today, please join Cynthia and I in praying for the incredible loss of the families in the Bahamas and for our neighbors in Charleston. Savannah will remain on standby to assist in any way with our sister city on the coast as they bear the brunt of the storm.
From Chatham Emergency 8 AM Wednesday
FACT SHEET
Chatham County remains under a Hurricane Watch, Flash Flood Watch, Storm Surge Warning, and Tropical Storm Warning. This means the conditions are favorable for tornadoes and tropical storm-force winds. Expected winds for Chatham County are 45-55 mph sustained and 65 mph gusts. The combination of dangerous storm surge and the tide could cause normally dry areas near the coast to be flooded with rising waters moving inland from the shoreline. The water could reach 3 to 5 feet above ground if peak surge occurs during high tide. Water levels could begin to rise well in advance of the arrival of strong winds with the potential of peak rainfall of 4-8 inches. The surge will be accompanied by large and destructive waves. Surge-related flooding will depend on how close the center of Dorian comes to the coast and can vary greatly over short distances. It is likely that Highway 80 to Tybee Island and other low-lying roadways will be inundated with water during high tide periods.
Safety/Security
– We have entered into OPCON 1; which is the final staging phase with a potential impact
within 24 hours.
– Curfew
The City of Savannah and the Town of Thunderbolt has implemented a curfew from 9 PM until 6 AM until further notice. There are no curfews in place for unincorporated Chatham County or any other jurisdictions within Chatham County at this time.
– Sandbags are available in Thunderbolt at 423 Bonaventure Road
– Chatham County Public Works has a staging crew ready to remove debris once impacted areas have been assessed
Food/Water/Shelter
– No municipality is scheduled to turn off water at this time. For those who have private water services, residents need to contact the provider for more information.
– While the storm's impact is yet to be determined, American Red Cross has set up shelters throughout the state to assist evacuees. For specific information, citizens are encouraged to call 1-800-RedCross
Municipal/Court/Chatham County Public Schools
– Chatham County offices are closed through Wednesday, September 4, 2019
– City of Savannah offices are closed through Thursday, September 5, 2019
– Chatham County Courts are closed through Thursday, September 5, 2019
– Savannah Chatham County Public School System is closed through Friday, September 6, 2019
Chatham County Courts
are closed through Thursday, September 5, 2019
Health/Medical
– Savannah Animal Care on West Bryant Street will be open 24/7 for stray or unattended animals and pet emergencies during the storm
– Public Health Update:
– The emergency departments of St. Josephs/Candler and Memorial hospitals are open
– Chatham County Public Health offices will be closed through Thursday, September 5, 2019
– Chatham Emergency Services (CES)
– Chatham Emergency Services has arranged with Chatham County Marine Patrol and the U.S. Coast Guard to be transported patients off the barrier islands of Chatham County in case of flooded roads. A dedicated paramedic is assigned to Skidaway Island and a paramedic ambulance crew is dedicated to the Chatham County Detention Center.
Energy
– GA Power has crews staged and ready to respond if necessary
– They have staged extra transformers, poles and wires
– Alabama Power and Mississippi Power are on standby to render aid if needed
Transportation
– Roads: I-16 contraflow will continue until further notice
– Chatham Area Transit (CAT) is suspended until further notice.
Bridge Closures:
– Talmadge Bridge is closed until further notice.
– The bridges onto Tybee Island, Wilmington Island, and Whitemarsh Island are not scheduled to close at this time. Any status changes will be included in future updates.
Airports:
– Savannah/Hilton Head International Airport has several flights that have been
canceled. Please check airline websites or mobile apps for the most up-to-date flight information prior to traveling to the airport.
– Passengers should carry a copy of their travel itinerary for movement in the evacuation zones.
– Airport shops and restaurants may be closed even when flights are operating.
– The public is urged not to call the airport but to contact the airlines directly for the most current flight information.
Chatham County is under a Tropical Storm and Storm Surge Warning, as well as a Hurricane Watch. The core of Dorian should pass along the Georgia coast today into tonight. Dorian is expected to remain a powerful hurricane during the next few days.
Tropical Storm force winds will begin late this morning and are anticipated to continue for a 24-hour period in Chatham County. Tropical Storm force winds could bring down power lines leading to power outages and could produce some structural damage.
According to the National Weather Service - Charleston, we should expect to see coastal rainfall of 6-10 inches and inland rainfall of 4-8 inches in our area; storm surge is expected to be 3-5 feet. Torrential rain could be combined with storm surge could enhance the risk of dangerous flash flooding in our community.
Isolated brief tornadoes are possible, mainly along and east of I-95.
The Talmadge Memorial Bridge is closed.
If you have any questions about the storm, don't hesitate to call us at 912-201-4500.
From NOAA
Stay Aware: Click here for Latest from NOAA
IMAGES/DATA FOR HURRICANE DORIAN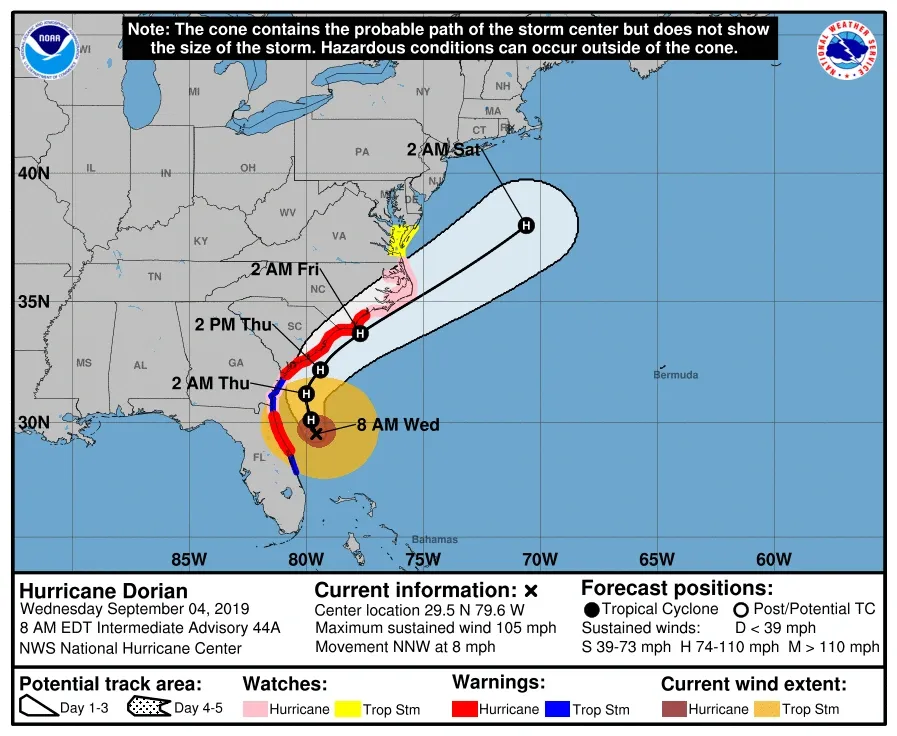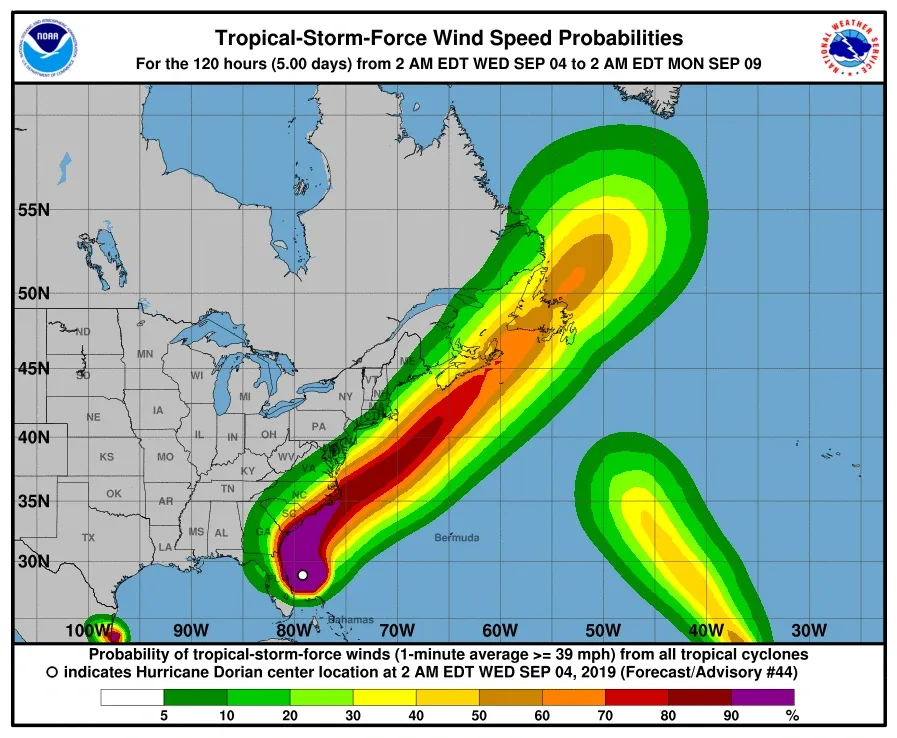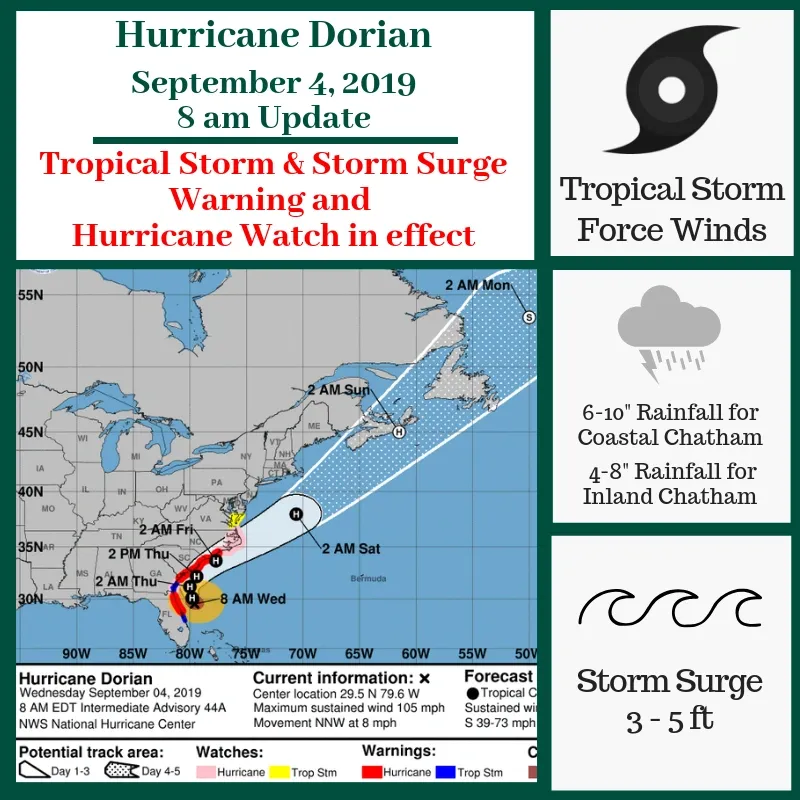 CURRENT LOCATION OF HURRICANE DORIAN SAVANNAH
HELPFUL INFORMATION FOR SAVANNAH RESIDENTS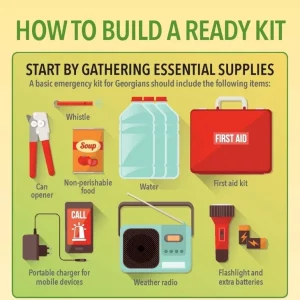 Hurricanes are powerful and dangerous storms; but if you are prepared, you will survive with the least amount of discomfort!Here are some things you can do at the beginning of the season, to help make your home and family "hurricane resistant"!
Prepare your survival kit with enough supplies to last you, your family, and pets for at least three days.
As you purchase items on the list, check them off until your kit is complete. Next to the list, write down where the kit and any separate items are stored. Even if you plan to evacuate, you need to have these supplies with you.
Write down your Georgia Power account number for faster service: ________________.
In case of an outage, call Georgia Power at 1-888-891-0938
Update your homeowners insurance; make sure you are covered for wind and flood damage. If you rent, purchase renter's insurance. Know your deductibles, they may be higher than you think! Get additional tips about your insurance here.
Find out the elevation of your home and how the surrounding area would flood in a hurricane.
Videotape or take a written inventory of all your belongings.
Keep your yard free of debris. Cut down any dead tree limbs. Remove weak, damaged or diseased trees.
If you do not have pre-installed shutters, measure all windows and doors for plywood covers. Pre-cut the plywood and install anchors.
Purchase a kit to brace your garage door, especially if your home was built before 1993.
Locate the nearest public shelters. Not all shelters will be opened during a hurricane. Be aware of several alternatives.
Purchase a battery operated weather radio with the tone alert.
Take a first aid class.
Make sure your street address is clearly marked on your home.
Complete your personal hurricane plan.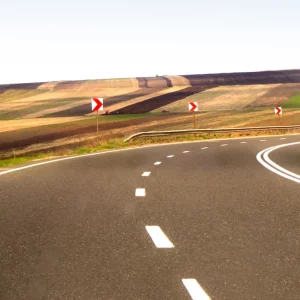 Evacuation Routes Emergency Management Chatham County
FIND YOUR EVACUATION ROUTE
Once an evacuation order is issued all major roadway networks within Chatham County will be considered evacuation routes for local travel.
Evacuation routes from the County to inland areas have also been designated. They include GA 204, GA 21, US 80, and I-16.Evacuees are encouraged to use the evacuation routes instead of other side roads. I-95, US 17A and US 17 (Southbound) are not designated evacuation routes outside the County. Evacuees intending to use them should only do so before a mandatory evacuation order is issued and well in advance of any approaching storm.Evacuees leaving the County will be encouraged to make arrangements to go safely inland and stay with friends or relatives, or at hotels or motels. Those who wait until a mandatory evacuation order is issued will probably have difficulty finding hotel/motel vacancies east of I-75 and south of Macon.I-16 One-Way Operation Directions:In order to provide more roadway capacity during hurricane evacuations from the coast, portions of I-16 will operate entirely in the West-bound direction, meaning both East-bound lanes of I-16 will be converted into West-bound lanes. These are called contraflow lanes. Two median crossovers have been constructed to allow motorists traveling in the normal West-bound lanes to transition to the contraflow lanes for evacuation. One crossover is located just east of Chatham Parkway (mile post 162) and the second one is located just west of SR 307/Dean Forest Road (mile post 158). Care should be taken when using the crossovers.There is normal access to all surface roads from the regular West-bound lanes. Additionally, for your convenience, the following exits will be available to motorists choosing to travel in the contraflow lanes (normal East-bound lanes converted to West-bound lanes).
• Exit 143 - SR 30 in Bryan County
• Exit 116 - US 301 in Bullock County
• Exit 104 - SR 23/121 in Candler County
• Exit 90 - US 1 in Emmanuel County
• Exit 71 - SR 15 in Treutlen County
• Exit 67 - SR 29 in Laurens County
• Exit 51 - US 441 in Laurens County
The Interstate can be re-entered only by using the regular Westbound entrance ramps. However, in Savannah, there are several points where the Eastbound exit ramps will be converted into Westbound entrance ramps. These ramps will provide extra access into the contraflow lanes. The ramps are:
• Chatham Parkway
• SR 307 between Savannah and I-95The one-way operation of I-16 will end west of Dublin. To end the one-way operation, traffic west of US 441 will be merged into a single lane in both the normal West-bound lanes and the contra-flow lanes. A median crossover has been constructed to take the traffic from the contra-flow lane back to the normal West-bound lanes.  From the crossover point Westward, I-16 will function as normal into Macon. Chatham County Evacuation Maps What you can Expect With the improvements to the I-16 one-way plan, your trip will be smoother than during the Hurricane Floyd evacuation in 1999. However:
1. You must have a full tank of gas.
2. Be prepared by having all personal needs, medications, water, snacks, etc.
3. You can exit at many exits prior to the end of the one-way section of I-16.
4. Evacuation speeds will still be slow.
5. The travel time from Savannah/the coast will be longer than normal.
6. Alternative routes, SR 21, US 80 and SR 204, should be considered.Traffic ControlThe time necessary to evacuate large numbers of vehicles depends upon a variety of variables such as:
Number of travel lanes available.
Maintained vehicle speed.
Time of day or night traveled.
Number of points of entry and exit from evacuation arteries.
Control of traffic and clarity of directional signs.
Frequency of transportation breakdowns.
Location of roadway accidents.
Percentage of trucks and buses.
Weather conditions.Evacuees caught out on the roads in traffic jams when a hurricane overtakes them are in extreme peril. Therefore, effective traffic control measures are essential to expedite the unimpeded flow of traffic.Outside of Chatham County evacuation route traffic control will be the responsibility of the State and local jurisdictions through which the routes travel. However, within County boundaries, approximately 100 traffic control points at critical intersections, bridges and potential choke points will be staffed by local law enforcement officials. Towing service vehicles at strategic locations will be on a standby status at the direction of the law enforcement agencies with whom they have contracts.The specific traffic control assignments and locations, as well as the agencies responsible for each, which will be staffed during a full-scale hurricane evacuation. These traffic control points will all be activated after a Mandatory-Full evacuation order is issued (i.e., County-wide). A lesser number may be activated after an Early/Recommended or Mandatory-Partial evacuation order is issued, depending on the volume of traffic experienced and the discretion of the respective law enforcement officials within each jurisdiction. They will remain activated until traffic flow no longer requires; however, once the gale force winds arrive the officers will be released from duty to seek shelter themselves.County Evacuation CoordinationBefore any anticipated or actual evacuation orders are issued, CEMA will communicate and coordinate with its counterparts in adjacent coastal and inland risk counties, including those in South Carolina. They will be informed of the level and type of evacuation, the time it will begin, anticipated volume of traffic and the status of I-16. Particular attention will be given to coordinate the timing of evacuation orders with Beaufort County, South Carolina. Periodic status reports on evacuation progress will also be issued to these jurisdictions. In all cases the Georgia Emergency Management Agency will be kept informed and included in any and all coordinating activities.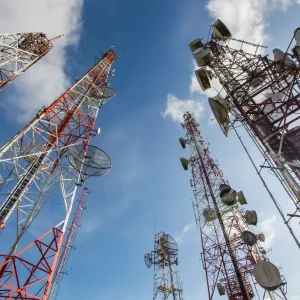 News, Up To Date Info, and Numbers
Updates Via Text Messages
Text 'FOLLOW CHATHAMEMA' to 40404 to be added to the SMS notification list, powered by Twitter. Standard text messaging rates apply.
News
https://www.chathamemergency.org/PrepareNow/Dorian
RE-ENTRY INFORMATION HOTLINE
The CEMA Re-entry Hotline number is 912.644.8811. This hotline is solely for the purpose of distributing information about re-entry back into Chatham County following a hurricane, and will not be used for the dissemination of storm information, damage reports, and other disaster information. Please program this number into your phone as part of your evacuation preparations.
• American Red Cross: 912-651-5300 (main number) or 912-651-5310 (disaster services)
• Emergency Help: 211 (area police, fire and medical)
• Office of Homeland Security Georgia Emergency Management Agency: 800-TRY-GEMA
(800-879-4362)
• Federal Emergency Management Agency:
770-220-5200 (Atlanta Regional Office)
• Livestock: 404-656-3667 (Department of Agriculture number for emergency planning for barnyard animals)
• Animal Protection: 404-656-4914 (Department of Agriculture number for which shelters for small animals are open)
• National Weather Service: 843-744-0303. Press 3 for tropical conditions.
• Salvation Army: 912-651-7420
• Georgia's Insurance Commissioner's Office:
800-656-2298 CHATHAM COUNTY
• AGL (natural gas): 800-GAS-LINE, 877-427-2464 (for repairs, if you smell gas)
• Candler Hospital: 912-819-6000 (general), 912-819-6037 (emergency room)
• Chatham County Emergency Management Agency: 912-201-4500; during severe weather, you can call the CEMA hotline: 912-644-8811
• Humane Society for Greater Savannah:
912-354-9515
• Memorial University Medical Center: 912-350-8000 (general), 912-350-9616 (emergency room)
• Public works, Chatham County: 912-652-6840; 912-652-6844 (water and sewer; county only); 912-652-6780 (recreation)
• Georgia Power: 800-390-2834 (for repairs and to report outages)
• St. Joseph's Hospital: 912-819-4100 (general)
• Water Department, city of Savannah: 912-651-6460 or 311
Chatham County Preparedness
Category 1 ○ Winds: 74 -95 mph ○ Expect some damage
Category 2 ○ Winds: 96 -110 mph ○ Expect extensive damage
 Category 3 ○ 111-129 mph ○ Expect devastating damage
Category 4 & 5 ○ Category 4 Winds: 130-156 mph
Category 5 Winds: >156 mph ○ Expect catastrophic damage